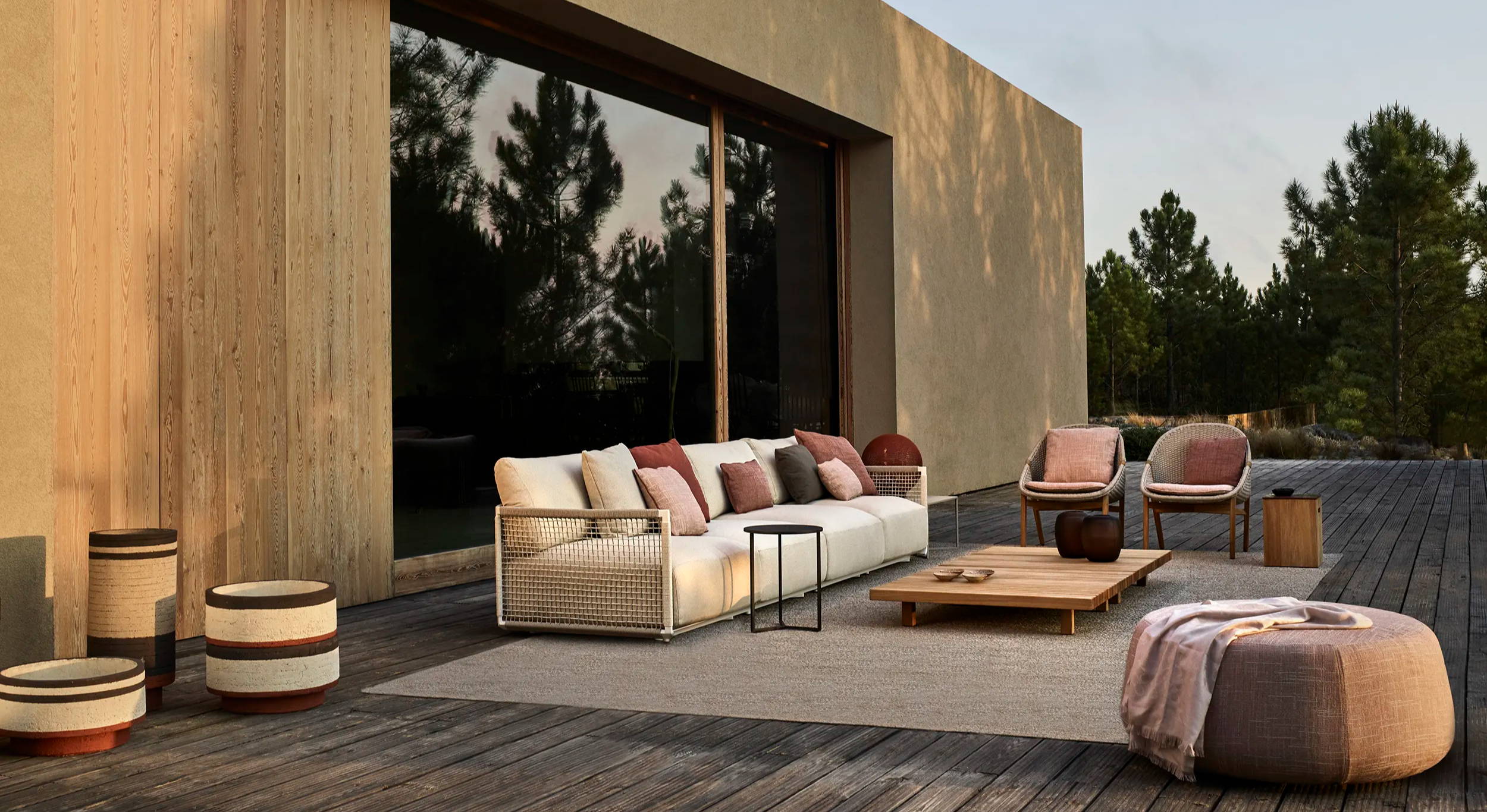 Nodi Sofa, Elio Easy Chair, Vis a Vis coffee table, Noman Pouf by Tribu  
As we find our days extended by daylight longer and longer this time of year, we can't help but fantasize about the Spring weather to come ahead to end our current state of hibernation. Is it the beauty of nature itself that draws us out of the indoors or our subconscious desire for the physical perks of vitamin D? The benefits of spending more time outdoors are endless.
Exterior living spaces have become our much valued sanctuaries, whether they host our escape from daily work stress or offer a setting to invite intimate gatherings and celebrations. Explore a number of highlights from our outdoor living offering-- we are proud to be welcoming new designs from Tribu as well as introducing a new partnership with South African planter maker, Indigenous.
Tribu
Tribu has championed the idea of terrace and garden as extensions of the home, of living the good life outside, for decades. With an emphasis on design and discreet luxury, Tribu offers a wide selection of refined styles, impeccable quality, environmentally-friendly materials, and weather-resistant durability; the Belgian design house has become synonymous with the art of leisure.
A family-run business, Tribu understands the value of quality time spent with loved ones, and the desire for ease and an escape from your work life, a practice more important to us than ever.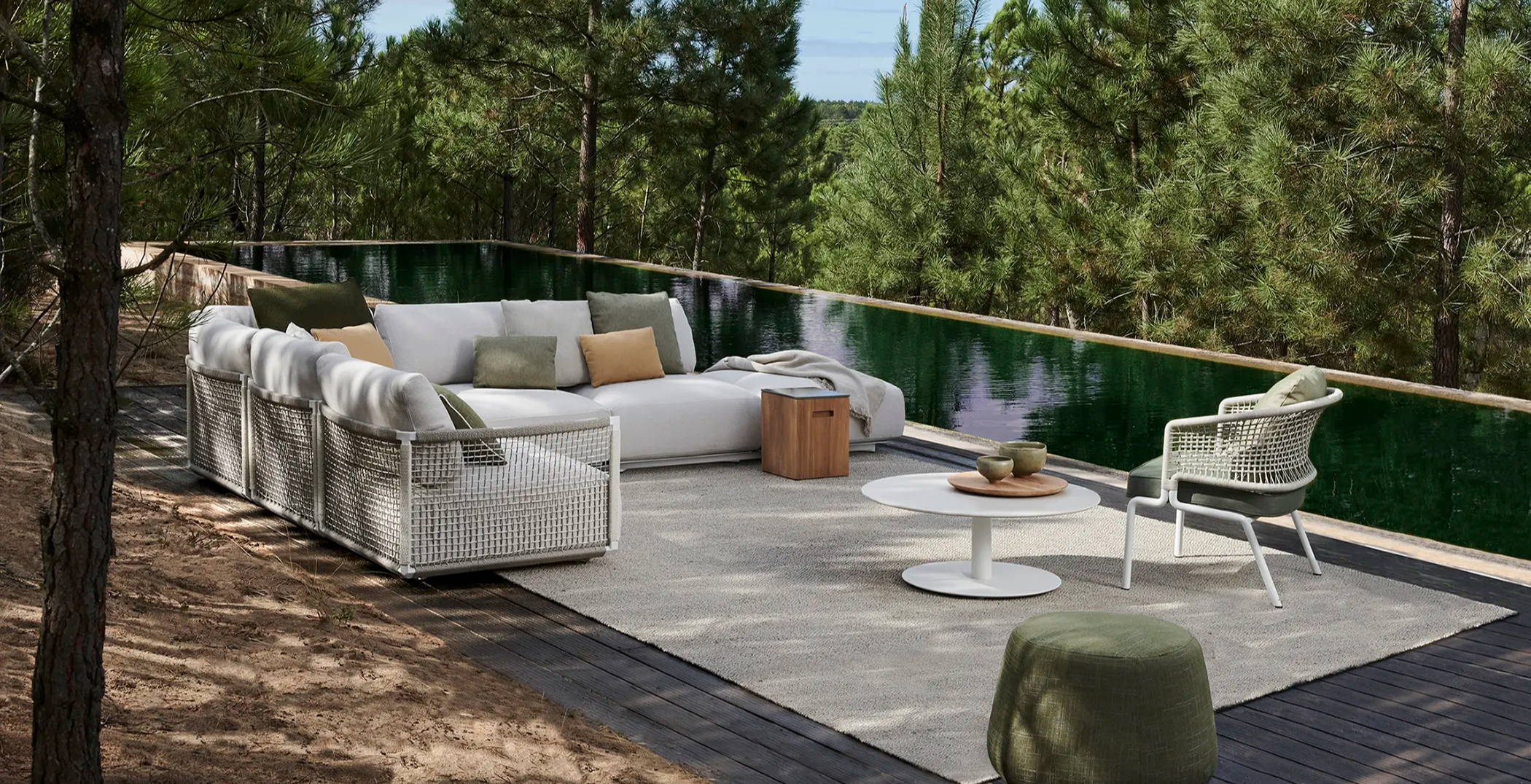 Nodi Sofa, CTR Club Chair, T-Table Coffee Table, Nomad Pouf by Tribu
Nodi - Light & Airy
The modular Nodi sofa by designers Yabu Pushelberg has a strong profile, but a quiet personality, so it looks at home in an outdoor setting without dominating it. The graceful frame sits lightly on the ground, yet it is made of solid powdercoated stainless steel.
A new addition to the Nodi family, previously comprising of an armchair, easy chair, and adjustable lounger, the sofa offers flexibility of configuration. An airiness and architectural appeal are evoked thanks to the natural curve of the frame and open weaving in Canax®. The extra-soft and airy outdoor cushion filling makes Nodi a supremely comfortable sofa, as well as one of the most adaptable with three seating elements and four seat depths.
CTR Arm Chairs, Illum Dining Table by Tribu
CTR - Elegant Subtlety
Italian designer Piergiorgio Cazzaniga does with the CTR collection what he is good at: making complex designs appear effortless. The frame of the chairs is made of profiles in powdercoated stainless steel that are bent in one continuous line. The corners are straight, yet the tubes keep a round form, which requires great mastery. The backrest is attached to the frame at only 2 points and appears to float unsuspended above the seat. The open weave refers to the ancient tradition of weaving and gives flexible support to the back. The seat is upholstered with a water-repellent cushion which can be easily removed.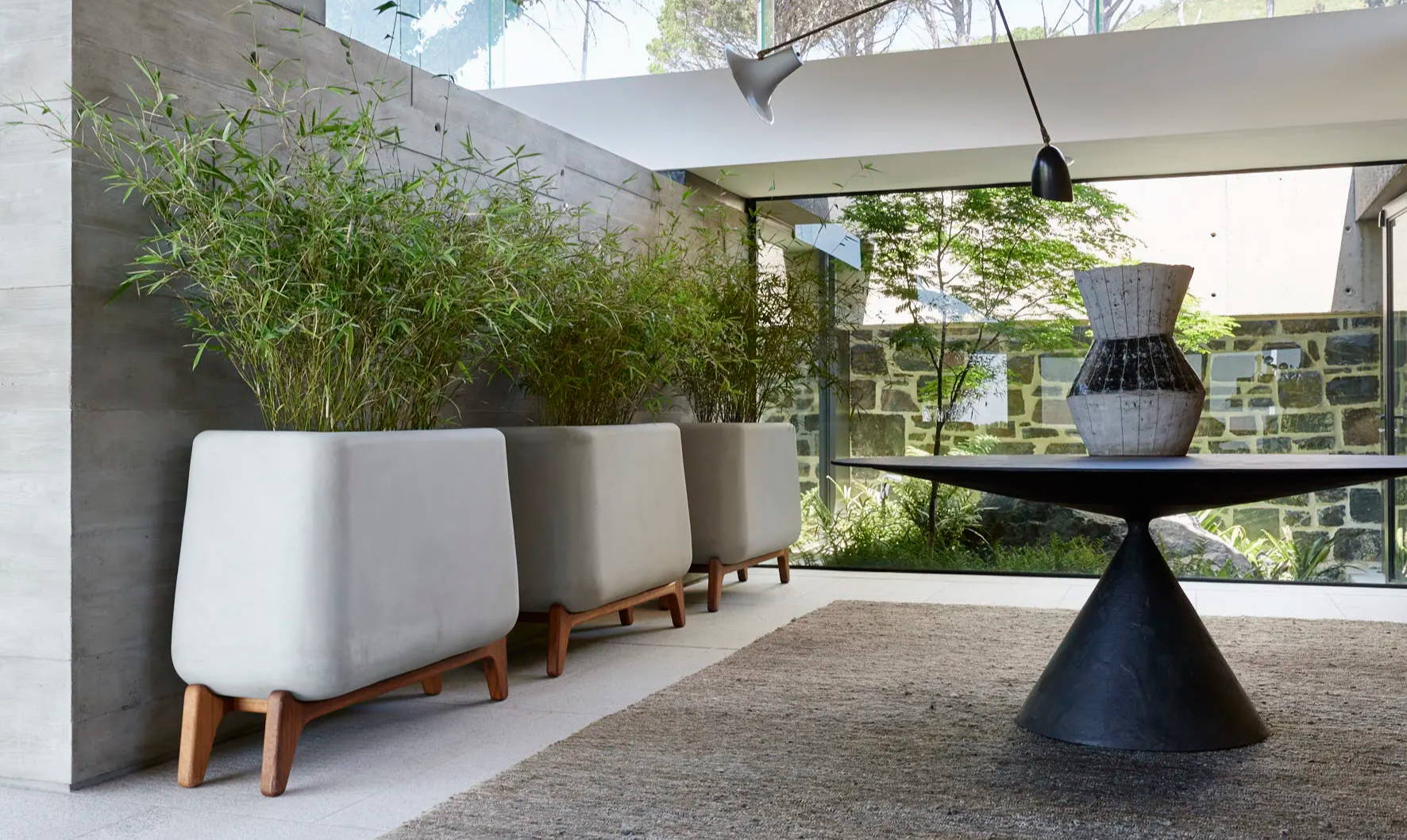 Terra Trough Planters by Indigenus
Indigenus
Indigenus designs and manufactures durable architectural planters developed to provide beautiful landscaping to enhance residential, hospitality and corporate environments. Their products are developed in collaboration with leading designers, architects and artists who have a deep appreciation of creating remarkable and appealing designs that allow for a deeper human connection with nature while acting as magnificent art pieces in their own right.
Using top quality materials our planters are honed by highly skilled artisans with great care and attention to strength, hardiness and finish. In knowing the practicalities of maintaining plants, especially for larger establishments, Indigenus planters are designed to be lightweight for easy transportation and installation. All planters come with removable inner linings and water reservoirs for practical plant care indoors or out.
Whether you are looking to put your green thumb into practice or looking for a statement piece for your next hospitality project, explore some of their signature styles.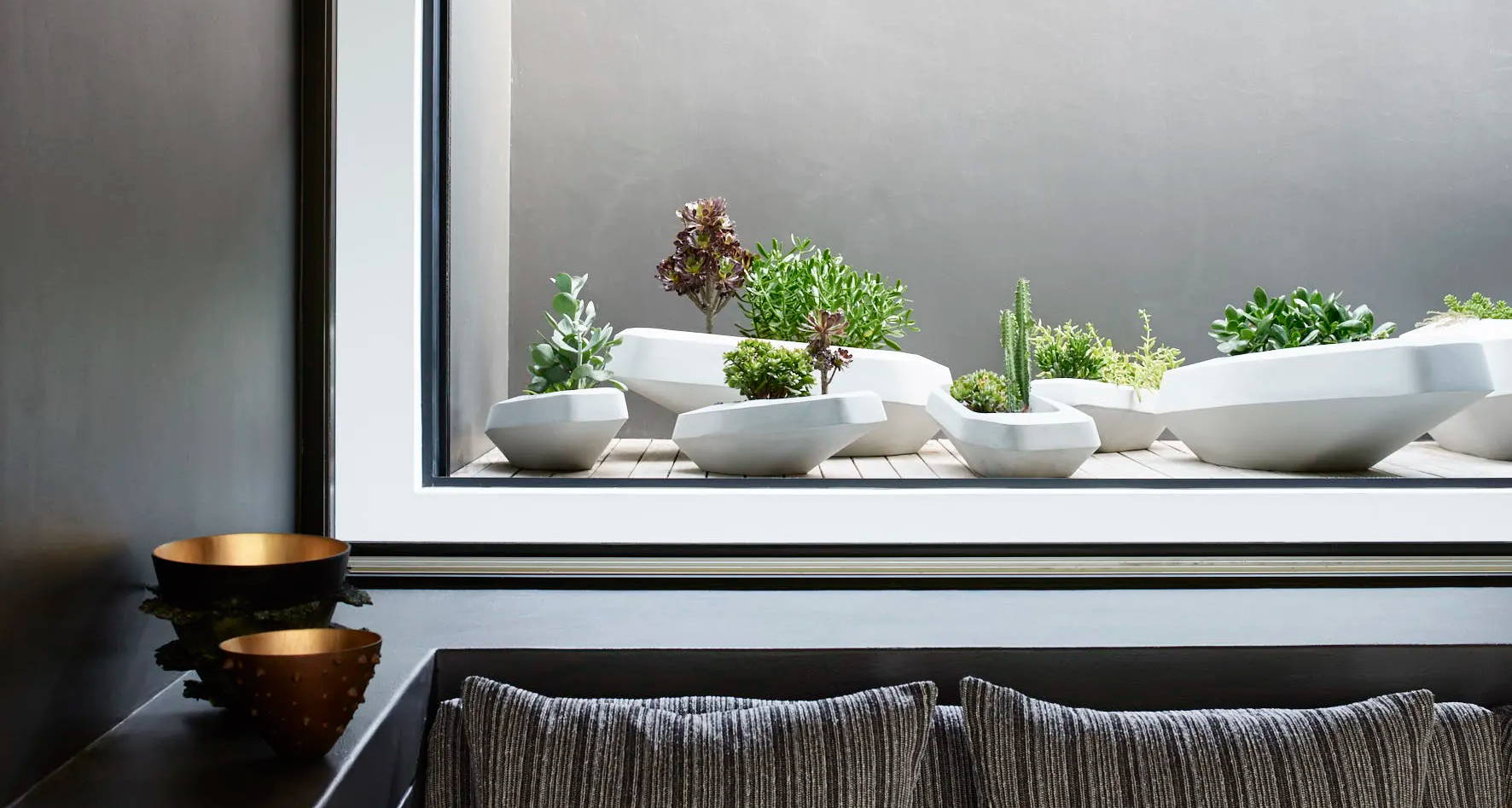 Steen Planters by Indigenus
Steen - Organic Asymmetry
As leading architects of the world-renowned practise SAOTA, Antoni and Truen are known for their uncompromising contemporary design with a philosophy of simplicity, restraint and refinement of materials. For Steen, which means 'stone' in Afrikaans, they took their inspiration from the dramatic boulders found on the coastal cliffs around Cape Town. The range features an unusual horizontal orientation in stylized forms which are powerful and bold, yet delicately poised.
Made from glass-reinforced concrete, which is lighter than regular concrete the Steen range has been given a beautiful buffed suedelike finish in concrete grey, limestone white and boulder black. The three sizes work particularly well when grouped together and can be endlessly configured to dramatic effect. Their chiselled profile works beautifully at eye level however they are at their best seen from above offering an endless dance of potential placement.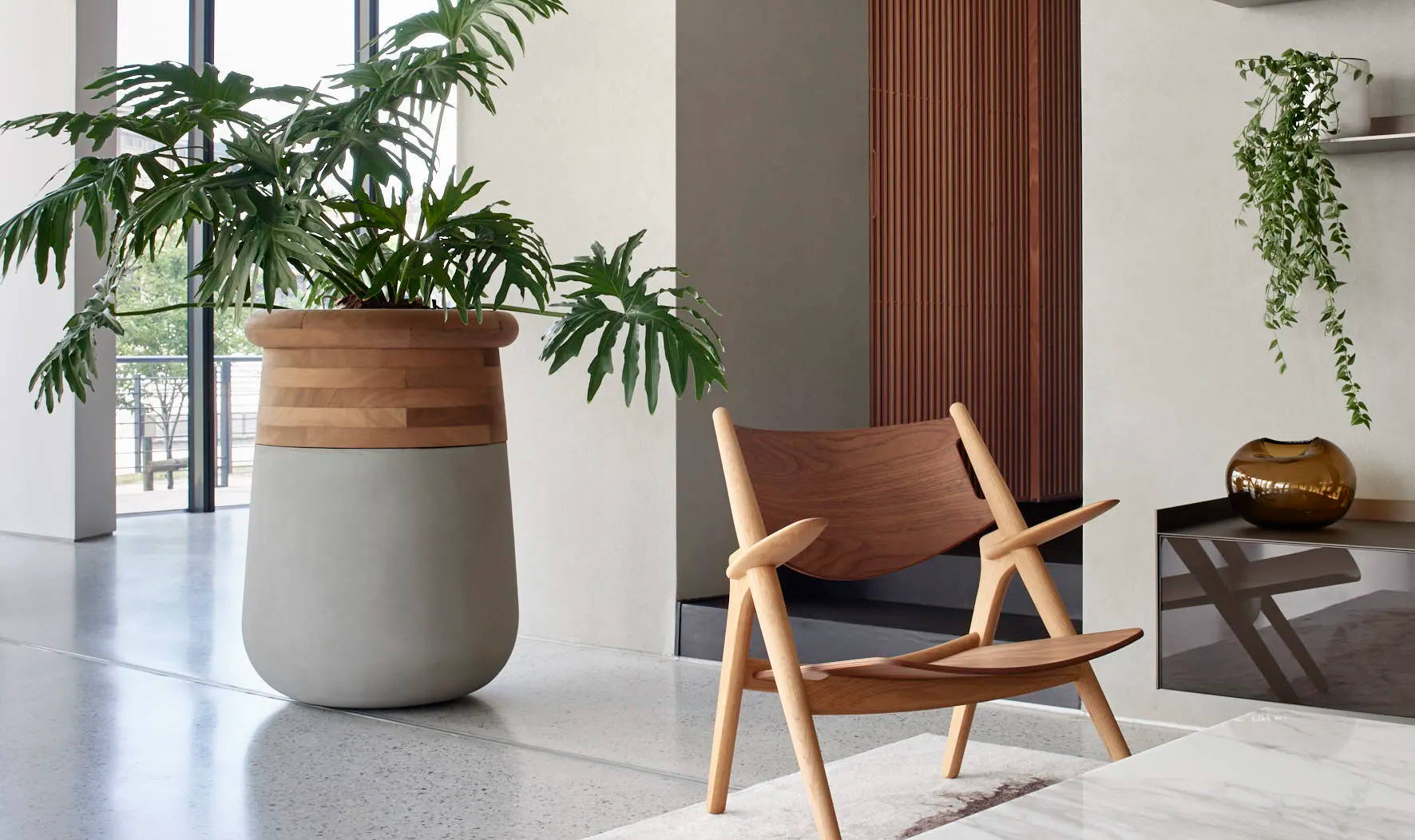 Soma Planter by Indigenous
Soma - Anchoring Presence
With its clean curvaceous lines and immaculate finishes the Soma planters have become an iconic part of the Indigenus range. Inspired by the 'anchoring presence' of trees combined with the designer's distinctive rounded sculptural style the Soma planters create a powerful impact on any landscape or interior. The Soma design celebrates the stone-like appearance of reinforced concrete and in various progressions of the design contrasts with organic elements in wood and cork.
The Soma collection, the first collection van Heerden did for Indigenus, is an extremely versatile range. The planters can act like pillars punctuating a long vista or provide a shapely antidote to the rigid lines of architecture. They are perfect for solo placement on the ground, in a corner, or on a raised surface and are particularly effective assembled in varying heights.
Contact us to learn more about our outdoor lifestyle product offering, or to book an appointment at one of our showrooms.